330A 2600 8th Street East
Saskatoon, SK S7H0V7
Next to Saboroso restaurant

(306) 955-2473
Open Today Until 4:00 pm
| | |
| --- | --- |
| Monday | 10:00 am - 6:00 pm |
| Tuesday | 10:00 am - 6:00 pm |
| Wednesday | 10:00 am - 6:00 pm |
| Thursday | 10:00 am - 6:00 pm |
| Friday | 10:00 am - 6:00 pm |
| Saturday | 10:00 am - 6:00 pm |
| Sunday | 12:00 pm - 4:00 pm |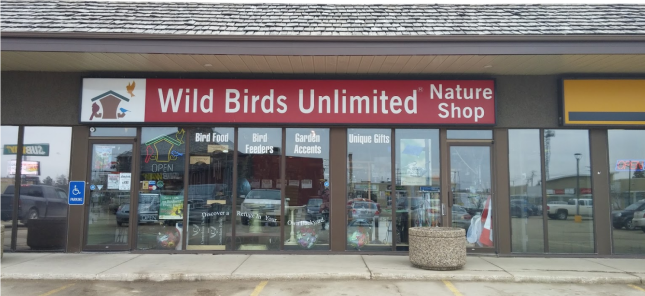 Keith and Denise Giroux Franchise Store Owners
View Our Store Site
It's a Great Time to Feed the Birds
Bird feeding isn't just a winter hobby. By continuing to feed your birds in spring and summer, you have the greatest opportunity to attract the widest variety of birds to your yard and feeders. Access to abundant and healthy food is important to birds...regardless of the season. Birds with access to backyard feeders benefit greatly from their ability to spend less time foraging for food and more time engaging in activities that enhance their health and safety. You also get to enjoy the birds in their breeding plumage and watch the young birds as they come to the feeder. If you don't already have a fresh water supply for your birds now is a good time to consider adding it. Water is critical for birds health, especially on hot summer days.
_____________________________________
Thu. Jul. 12th (7:00pm) - NOCTURNAL BIRDS: Back by popular demand, Lyndon Penner will be sharing his passion for birds. With the exception of owls, we almost never think about birds as being creatures that are active at night! Around the world, there are actually quite a few nocturnal birds that have specially adapted and evolved to make their living in the dark! A great many sea-going birds are nocturnal, as is New Zealand's iconic kiwi bird. Nightjars and whippoorwills are night creatures, and maybe you've even spotted a night heron going about his business at dusk. Join us for a curious and engaging look at some of the world's more unusual birds. A FREE event at Wild Birds Unlimited.
_____________________________________
Sun. July 22nd (6:30 - 8pm) - The Amazing World Of Falconry: The Peregrine Falcon is the fastest bird on earth. Lynn Oliphant has been training his 2018 brood of falcons and you're invited to meet them. Lynn is professor emeritus from the Department of Veterinary Biomedical Sciences(Univ. of Sask.), founding member of the Prairie Institute for Human Ecology, Award-winning Environmentalist and raptor expert. Be at WILD BIRDS UNLIMITED Nature Shop @ 6:30pm and we'll drive to Lynn & Rhonda's place. We will be carpooling for those interested. This is FREE to anyone interested
_____________________________________
Wed. July 25th (6-8pm) - Please join award-winning Saskatoon author Sally Meadows (MSc, BEd) for the launch of her new book 'When Sleeping Birds Fly: 365 Amazing Facts About The Animal Kingdom'. With hands-on activities for kids ages 5-12, this event (and book) is perfect for anyone who enjoys amusing animal trivia. This is a come-and-go event with a short introduction at the beginning. As a former scientist, children's entertainer (Sal the Science Gal, Nuts About Science! ), and educator, thousands of students have enjoyed and benefitted from Sally's innovative programs that increase science literacy in fun and unique ways. Find out more about Sally at sallymeadows.com; sign up for her newsletter to keep up with all her latest news. A FREE event at Wild Birds Unlimited Nature Shop.
_____________________________________
Hort Week 2018

Take a free tour, take one class, or take a whole bunch! Hort Week is July 7-13 this year with daily, evening and weekend workshops throughout. We've got more than forty different events - from basic classes to speciality classes, maker workshops to classes for certification, with plenty of free tours and free classes in between.
Check out the upcoming classes list to browse Hort Week classes or download our schedule of events to print. Topics include:
Fermenting your Vegetables (with bonus kefir making)
Gardening in the Shade theme: classes on hosta, annuals, shady containers and perennials
Japanese Vegetable Gardening
and more than 35 additional classes including many free events and workshops!
---